A FESTIVUS FOR THE REST OF US (20th Anniversary of FESTIVUS)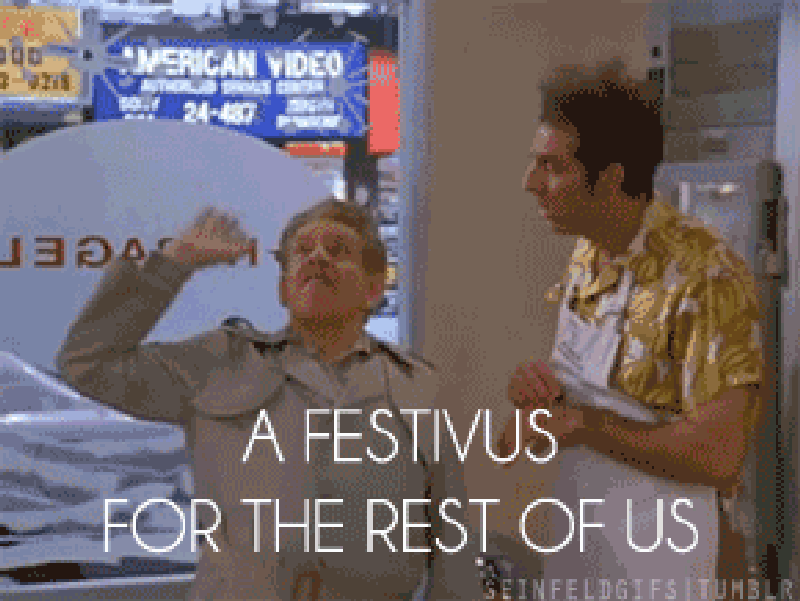 20 years ago this week, the world was introduced to Festivus. A magical time of feats of strength and airing of grievances. A time without consumerism or distracting tinsel. A time for miracles.
From all of us here at Vundablog, we'd like to wish you, our loyal, loving Vundabytes a Happy Festivus. You all get a pass from the Airing of Grievances.
But everyone else...
I GOT A LOTTA PROBLEMS WITH YOU PEOPLE, AND NOW YOU'RE GONNA HEAR ABOUT IT...
Trump Administration and Trump Supporters: Stop. Just stop.
WWE: Stop putting all the old, washed up, part time legends over the young guys. If you actually invest some time in making new stars, maybe you won't need to rely on a bunch of old guys. This is exactly why WCW lost the Monday Night War and you won. They pushed Hogan and Nash and Hall and Savage and Luger, etc. and WWF was forced to invest in the "new generation" of HBK, Undertaker, Steve Austin, The Rock, etc. Do THAT again. You have the world's best farm system in NXT, a state-of-the-art training center, amazing teachers. Grow some new superstars. Also stop making up ridiculously convoluted rules and stipulations for matches and just let people wrestle good ass matches. Also, push Cesaro. And Sami Zayn.
Mediocre White Men (MRAs, Alt-Right, Paleoconservatives, Regressive Christian Conservatives): There's no such thing as "reverse racism" let alone "white genocide." Stop having a hissy fit every time someone actively subverts white supremacy. I know. A black stormtrooper. How dare they. There are still plenty of white/male dominated stories and aspects of life. It's going to be okay. Really. And if you think there's a "witch hunt" for sexual abusers right now rather than a massive systemic problem that is only now being exposed, take a seat. Maybe listen when someone talks about toxic masculinity and its effects on our culture instead of getting all defensive and mansplainy about how "NOT ALL MEN" or whatever.
Tool: Put out a goddamn new album already. We know it takes you guys a while. We get it. We know you're busy guys with all your other projects. But IT'S BEEN TEN YEARS. You're killing us, here.
AND THE REST OF YOU: YOU COULDN'T SMOOTH A SILK SHEET IF YOU HAD A HOT DATE WITH A BABE...
...I lost my train of thought.
Oh, well. Anyway. HAPPY FESTIVUS!!!