Kliq Bait: Top Ten NJPW Matches of 2018
10. Jay White vs. Kenny Omega (IWGP US Championship) -- The New Beginning In Sapporo
When I first watched this one, I rated it quite a bit higher than I have here, now that I've rewatched it. I still think this is maybe the most underrated New Japan match of 2018 and I remain a huge Jay White mark--one of the best in New Japan at wrestling in character and making things look super realistic. The end of this match where Kenny just repeatedly V-triggers Jay to dust but Jay absorbs it all and smiles because he's a fucking masochist and lures Kenny in to hit him with the Blade Runner and steal Kenny's US title. Also I'm a big proponent of including post-match stuff in the overall rating/ranking of a match--arbitrary, I know, but the whole thing is arbitrary--so the fact that this match result was the catalyst for the Cody/Kenny split and the Golden Lovers reunion might have put it over the edge. Don't @ me.
via dailymotion.com
9. Toru Yano vs. Kenny Omega -- G1 Climax 28
This is hands down the comedy wrestling match of the year in 2018. Just a master class in comedic wrestling timing. Add to that the great character arc of Toru Yano vowing not to cheat in the G1 only to cheat in literally every match because he can't help himself but also getting opportunities in each of his matches to prove that he CAN actually be a formidable wrestler when he puts his mind to it. And with Toru Yano picking up maybe the most unexpected victory of the entire G1, this HAS to be considered one of the top ten of 2018.
via YouTube
8. Kazuchika Okada vs. Zack Sabre, Jr. (IWGP Heavyweight Championship) -- Sakura Genesis
This is one of those special sort of matches that really revs my engine because the story of the match is so clear and so well-executed. Zack Sabre, Jr. was the hottest wrestler in New Japan when he blazed his way through the New Japan Cup but in every one of his matches there was a point somewhere in the middle where he started to get cocky and toy with his opponent. He also had a very hot temper which was particularly highlighted by his first round match with Tetsuya Naito, perhaps the greatest antagonizer in New Japan. Still, ZSJ's unorthodox style and unmatched technical proficiency made him unstoppable.
As the winner of the New Japan Cup, he had his choice of which title he wanted to challenge for. He probably would have had an excellent chance to take Will Ospreay's Jr. Heavyweight title or even Hirooki Goto's NEVER Openweight title but Zack wanted to measure himself against the best--and, perhaps, his huge ego had him believing he was on the same level--so he challenged Kazuchika Okada for the IWGP Heavyweight Championship. The match starts with Okada bringing just as much cockiness, going into the match trying to beat ZSJ at his own game and perhaps also trying to get into his head.
Midway through the match, the strategy changes--whether by design or by improvisation. As ZSJ starts getting cocky and toying with Okada, Okada baits him into a striking match and it turns the whole dynamic of the match because anyone who watches any New Japan knows that ZSJ can't possibly survive a striking match with Okada. So the whole rest of the match is ZSJ trying to remember to stick to his strategy of submission wrestling and pushing Okada to the limit when he does while Okada does everything possible to take him out of his gameplan. Ultimately, ZSJ was no match for Okada but he more than proved that at his best, he could be capable of pulling it off.
via f4wonline.com
7. Will Ospreay vs. Marty Scurll (IWGP Jr. Heavyweight Championship) -- Sakura Genesis
I am honestly not a particularly huge fan of either of these guys--especially Will Ospreay--but this match was just so beautifully and dramatically rendered, you can't help but get invested. It's just a happy accident that in a match built around Marty Scurll trying to destroy Will Ospreay's neck, he just so happened to (FUCKING IDIOTICALLY) damn near shoot break his fucking neck and hardway himself in the face. As mindnumbingly stupid as the spot he was trying may have been, the moments following Ospreay nearly shoot murdering himself are GREAT with the fight doctor (probably legitimately concerned for Will's safety) trying to talk to Ospreay but Ospreay crawling away from him and waving him off. Marty continues to brutalize the neck to the point that it almost gets uncomfortable (in that good way) but eventually Ospreay is able to use his incredible instinctual quickness to pull an Oscutter from the corner for the pin.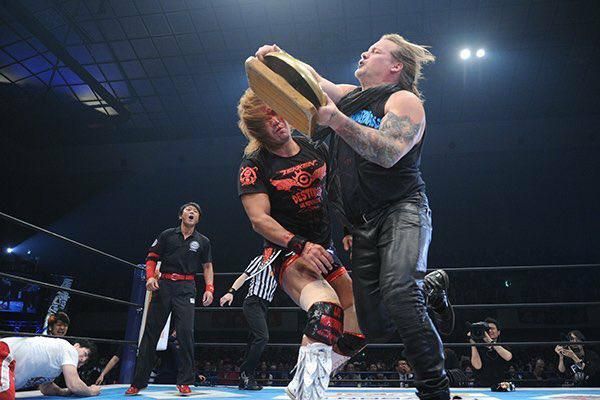 via sportskeeda.com
6. Chris Jericho vs. Tetsuya Naito (IWGP Intercontinental Championship) -- Dominion
This current run of Chris Jericho in New Japan might literally be the best he's ever been. Certainly there has never been a version of Jericho that has seemed as legitimately dangerous as this one. And what better foil for the new sociopathic asshole Chris Jericho than the endlessly infuriating Tetsuya Naito. He spends so much time antagonizing Y2J that the first, like, five minutes or so of this match is just Jericho MURDERING him without even letting him take off his suit and cape. From there, both guys just go bonkers on each other in an instant classic that ends with Jericho WINNING the IWGP Intercontinental title which no one expected.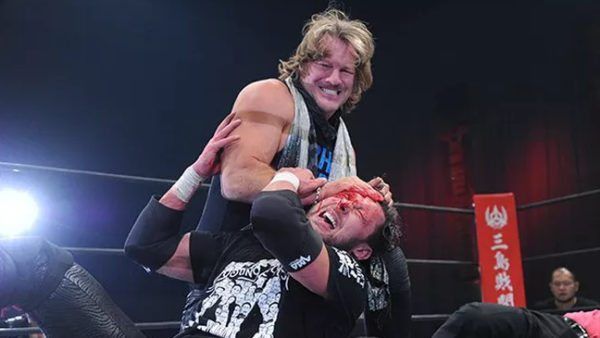 via sportskeeda.com
5. Kenny Omega vs. Chris Jericho (No Disqualification IWGP United States Championship Match) -- Wrestle Kingdom XII
The match that probably sold more NJPW World subscriptions than any other this year and it certainly did not disappoint. This match is great for a lot of the same reasons that the match with Naito is with Jericho at his most brutal and sadistic but this is also a little bit more of a North American style match with a bit more storytelling than the average New Japan match. Jericho as the embittered veteran come to reclaim his title of "best in the world" from the young up-and-comer who everybody is talking about as the current best wrestler in the world. These two absolutely destroy each other and change the game for NJPW in so many ways.
via postwrestling.com
4. Kazuchika Okada vs. Hiroshi Tanahashi (IWGP Heavyweight Championship) -- Wrestling Dontaku
This is one of those stories that's just too obvious not to do. Okada, after defeating Zack Sabre, Jr., now has his sights set on the only record he hasn't broken yet: 12 consecutive title defenses. So of course, the man to challenge him is the man who holds the record, Hiroshi Tanahashi, a living legend of Japanese pro wrestling. It's the passing of the torch, the present meets the past, as much John Cena vs. Daniel Bryan/Kevin Owens/AJ Styles/etc. as it is Shawn Michaels vs. The Undertaker. It's inevitable. And the match is all of that. It's two titans with so much history who are insanely competitive deciding once and for all who is the better man. It's high art.
via f4wonline.com
3. Kota Ibushi vs. Kenny Omega -- G1 Climax 28
This thing is just breathtaking. The story they tell lends itself flawlessly to the template of a brutal, unforgiving strong style New Japan main event match. The story is that these guys had hoped that they would never have to face each other again because the last time they did, they nearly killed each other and they're afraid if they ever faced each other again, one or both of them would take it too far. And mother of GOD do they take it too far. These two absolutely obliterate each other. It's fucking unreal. By the end of it, you almost start to agree with them that they should never do this again because they would literally kill each other. Just incredible, two best friends who are so psychotically competitive that they will do ANYTHING to come out on top. Excruciatingly beautiful.
photo credit: NJPW (via lastwordonprowrestling.com)
2. The Golden Lovers vs. The Young Bucks -- Strong Style Evolved
This was perhaps the best storytelling match of the year in New Japan. The reunion of the Golden Lovers and the resulting tension between Kenny Omega and the Young Bucks was the story of the year in New Japan and this match so beautifully renders that story that it's almost hard to even believe it. The moment when Omega picks up Matt Jackson for the One-Winged Angel and can't bring himself to do it but Matt grabs his hand and puts it in position, begging him to do the move, is wrestling storytelling at its very finest. If you haven't seen this match, you absolutely HAVE TO.
via f4wonline.com
1. Kenny Omega vs. Kazuchika Okada (No Time Limit 2-Out-of-3 Falls IWGP Heavyweight Championship) -- Dominion
A lot has been written about this match and way too many stars have been given to it but you gotta work pretty hard to find a reason not to put this among the greatest professional wrestling matches of all time. The storytelling, the athleticism, the absolute ungodly pounding both men lay on each other, the incredible drama...65 grueling minutes of it. It's an out-of-body experience. Every person alive should see this. Especially those who don't understand why people like wrestling. This is why.
Honorable Mentions
Not going to say anything about these except that THIS is how many Match of the Year candidates I saw in New Japan this year. And I left out some excellent matches. And didn't watch anywhere near every match in NJPW this year. Yeah, this New Japan thing is pretty good...
Kazuchika Okada vs. Tetsuya Naito (IWGP Heavyweight Championship) -- Wrestle Kingdom XII
Minoru Suzuki vs. Hiroshi Tanahashi (IWGP Intercontinental Championship) -- The New Beginning In Sapporo
Kazuchika Okada vs. SANADA (IWGP Heavyweight Championship) -- The New Beginning In Osaka
Kazuchika Okada vs. Will Ospreay -- 46th Anniversary Show
Zack Sabre, Jr. vs. Tetsuya Naito -- New Japan Cup Day 3
Zack Sabre, Jr. vs. Kota Ibushi -- New Japan Cup Day 6
Zack Sabre, Jr. vs. SANADA -- New Japan Cup Day 8
Zack Sabre, Jr. vs. Hiroshi Tanahashi -- New Japan Cup Day 9
Jay White vs. Adam "Hangman" Page -- Strong Style Evolved
The Young Bucks vs. EVIL & SANADA (IWGP World Tag Team Championships) -- Dominion
Juice Robinson vs. Jay White (IWGP US Championship) -- G1 Special In San Francisco